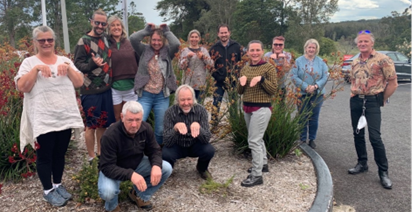 Why are so many musos drawn into working with folks living with mental health concerns on the mid north coast of New South Wales?
This week I was treated to a deeper dive into the talent pool in this part of the world through another couple of days of recovery focused mental health training.
Last time I was here, in May 2022, I bumped into Toni Lawson from one of my favourite feminist folk bands of the 90s, Isis. I was also introduced to the local earthy pub band stylings of Matt Higgins' side hustle, Black Cows. Toni and Matt are part of the team of mental health nurses at NCMHRU -pronounced "nic-maroo"- short for North Coast Mental Health Rehabilitation Unit. This week I got to see why Matt earned the nickname "Gandalf" through his nearly 40 years in this field. Matt and I co-facilitated the training, with Matt bringing timely and wise questions about what matters most in recovery oriented mental health work. He also offered me a private glimpse of Black Cows' new album "Kinda Human". Check it out here.
Btw, for the benefit of all fellow Isis tragics- yes Amy Stephenson, that includes you, watch for news of a new album Isis are working on here.
This week in Coffs, I met peer worker Dane Owen, who facilitates music workshops with folks spending time at NCMHRU. Amid tricky times, these workshops offer an experience of the unique release and sense of connectedness that comes from a good communal singalong.
During the training, Dane provided insights into the experiences of many mental health service users,When asked what most service users think of the mental health system's care plans, Dane quietly mentioned, "Mostly they're a pain in the bum".
This opened the door to great conversations about the difference it makes to start any recovery planning process by eliciting the dreams of a person living with mental health issues, perhaps using a method like the WRAP Wellness Recovery Action Plan. Even if the dreams seem unrealistic, talking about them can be super motivating. Dane shared an account of his ongoing support for a person who shared with him a dream of having a girlfriend and a job, dreams that seemed very far away initially but which are now looking much closer because of the small steps this person has been taking each week with Dane's support.
At the end of the training, Dane shared his 2014 EP "Fuzzy thoughts and the Monsters Delirium". I know this dates me, but Dane's voice and songs remind me of Harry Chapin and James Taylor. Have a listen here. Dane also shared the news he has just been accepted into the social work program at Charles Sturt university. Congrats again Dane, I look forward to welcoming into social work another musically minded person destined for a long career supporting people transforming their lives in the face of mental health challenges.